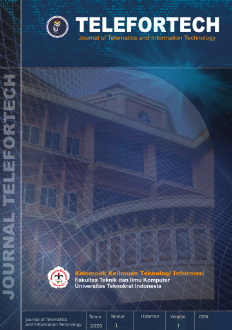 TELEFORTECH is a peer-reviewed scientific Open Access journal published by Universitas Teknokrat Indonesia. This journal was built with the aim to expand and create concepts, theories, paradigms, perspectives and understanding of information technology, networks and telecommunications, security, digital forensics. Articles published in this journal can be the result of conceptual discussions, ideas, innovation, creativity, best practices, book reviews, and the results of research that has been done.
Jurnal TELEFORTECH
publishes scientific articles twice a year in
Maret
and
September
. The submitted paper will be reviewed by reviewers. Review process employs
Blind Peer Review.
In this type of peer review the author does not know who the reviewers are. Before submission, please 
make sure that your paper 
is prepared using the journal 
Paper Template.

Online Submissions
Already have a Username/Password for Jurnal Teknoinfo?
GO TO LOGIN.
Need a username/password? GO TO REGISTRATION.  Registration and login are required to submit items online and to check the status of current submissions.

---
CALL FOR PAPERS 2020
TELEFORTECH Scientific Journal is a Journal of the Faculty of Engineering and Computer Science of the Indonesian University of Technology, in the field of Information Technology, and issues on the progress of technology and infrastructure. Telefortech journal published by LPPM Universitas Teknokrat Indonesia regularly 2 times a year (6 months).
In each edition published in accordance with certain themes agreed in the editorial meeting between the chief editor, secretary and one editorial board. In addition to receiving papers in the form of papers, we also accept book reviews that are in accordance with the theme of each edition, both classic and contemporary. For this reason, we invite writers to send their writings to be published in this journal with the deadline for receipt of the article as follows;
Volume and Number, Deadline : Vol. 1. No. 1
Journal Issue : March 2020
Article submission deadline is : February 20, 2020

The scientific works considered can be published are works that meet the following requirements and references :
l

 

The article is the author's original work and has never been published in a scientific journal or book.

l

 

The number of pages between 4-6, typed with 1.5 spaces on A4 size paper (21 cm x 29.7 cm) with Times New Roman fonts according to the journal template
The subject of articles may cover, not limited to :

Infrastructure
IT infrastructure planning

IT Governance

IT Investment Management

Audit of Information Technology

Networking & Telematics Applications

Software Defined Network
Network Function Virtualization
Named Data Network
Cloud Computing
Wireless Networking
Wireless Sensor Network
Internet of Things
Mobile computing & Appication

Security & Digital Forensic :
Network & Information Security
Application Security
Computer Security
Criptography
Computer & Network Forensic
Digital Image, Audio & Video Forensic